The Official Website of Kyoshi Gary Simpson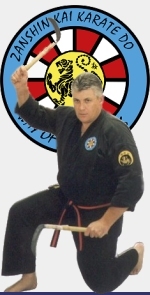 35 years in karate
15 years in motivation
[
more >>
]
Zen Garden > How to Cope When Things Go Wrong
When things go well for us we are on top of the world. But what about when things do not go the way we would like? How do you cope?


There are times in every person's life when things do not go according to the way we would like. All of us have our ups and downs. These can consist of periods of poor health, emotional problems, financial struggles, relationship challenges, accidents and the like.

Understand that these challenges are normal. We simply cannot exist in a "bubble of happiness" all of the time. It would be nice but life doesn't work like that - for anyone.

When things seem to be going poorly, there are two basic options open to you:
withdraw inside yourself and sink deeper and deeper into depression, probably weakening your ability to deal with future challenges.
work through your troubles as best you can and try to emerge out the other side, probably making yourself stronger and wiser for the experience.
Robert Schuller, a famous clergyman and prolific author, wrote a book which he aptly titled: "Tough Times Never Last, But Tough People Do!" (ISBN: 0-553-24245-8). In his book, Schuller says: "Name your problem and you name your possibility." It is a book about faith and strength and hope. He encourages readers never to surrender.
When things go wrong, as they invariably do from time to time, try to "hang tough." Bad times always pass, eventually. You just need to see them through.
Like the light of day always follows the darkness of night, good times will be just around the corner for you.
Gary Simpson is a 7th Dan karate master who teaches self defense, motivation, self help and wealth building to students around the world through home study courses. You may reprint this article as you include this author credit and an active link to his web site.

Finance - Self Help - Motivation - Self Defense - Personal Growth
MotivationSelfEsteem.com